Kapre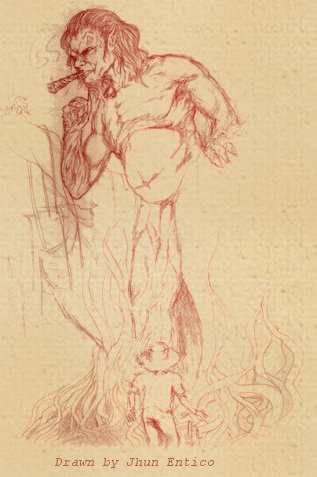 Ang Kwento Tungkol Sa Kapre Ayon Sa Tunay Na Karanasan
There many stories about kapre, different version base on what they have experienced.
Living in a cave, forest or in big trees. Kapre are bigger and taller than the ordinary man. There was story of a woman who had an experience with a kapre in bikol. It was an ordinary day, a man came to their house in the forest. An angelic, good looking guy. She had a conversation with him. The kapre kept on inviting her to go with him, the first few times, she refused. But then one day, she finally agreed. The woman said, they went to a place they call a paradise. It was her soul which was gone with him and her body left unconscious and sick.
They both travelled to their world. He treated her with all the kindness. She never see such a place like this beautiful in her entire life. One thing that got her attention was, there was a food everywhere. He even gave her a ring.
The man keeps on offering a food to her. He wants her to eat. But she refused. It is believed that if you accept the offer and eat their food, he can finally take you, and can no longer come back. She saw an unusual kind of food. It was color black. This is the food he wants her to eat. Still she never touch or eat the food he was offering. Then suddenly he got angry. He was furious, and from a sweet man, he transformed into a monstrous evil. He now then let her go.
Back home, her unconscious body was ill, the modern medicine was unable to cure her. They even thought that she was already dead. By the help of an albularyo or healer, he can drive away the devil or kapre, by performing a ceremony or ritual and food offering.